The next salami on my list is a
Felino
. Altogether a pretty good salami as salamis go the red wine was noticeable and the mouth feel a bit dry to me. While the recipe indicates that this is a mild flavored salami I found it a little strong for my taste.
I attribute this to the
possibility
of the deviation from the recipe in as where I should have held the salami at 80% RH for 10 days prior storing at a lower 60% humidity. As I have other salamis curing together with this batch this was a
variable
that I had to forgo.
Altogether
though, a pretty tasty salami as as salamis go.
The recipe used was as follows:
3lbs. Pork shoulder
2 lbs. Beef, lean
3/4 cup NF Powdered Milk
5tsp. Kosher salt
1 Tbs. Dextrose
2 tsp. Garlic Powder
1 tsp. Cure #2
2 tsp. Black pepper
1/2 tsp. Sodium
Erythorbate
1/4 tsp. Starter culture (
LHP
)
1/2 cup Red wine
The recipe was taken from:
http://lpoli.50webs.com/index_files/Salami%20felino.pdf
I cased these salamis in #3 collagen casings and fermented them at 80*F and 90% RH for 24 hours. Following the fermentation process they were stored in the curing chamber for approximately 30 days at a temp. of 60* F and 70% humidity. After loosing the
prescribed
30% weight I went by feel of the sausage to determine the best maturity.
Here is a photograph of the end result when it was sliced.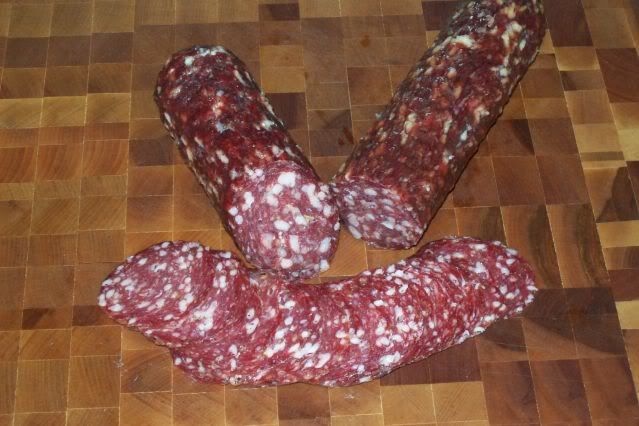 Next.... A
Rossette
de
Lyon