The next subject for curing will be the coppa, or capocolla. The coppa is taken fom the upper portion of the boston butt, from the top muscle. In this post I will show how the muscle is cut and sectioned from a shoulder, seasoned and put up for cold curing, then finally put into the casing, tied and cured in the chamber.
We start with a fresh pork shoulder. Notice the section to the left of the shoulder. This is the muscle bundle that will be used in making the coppa.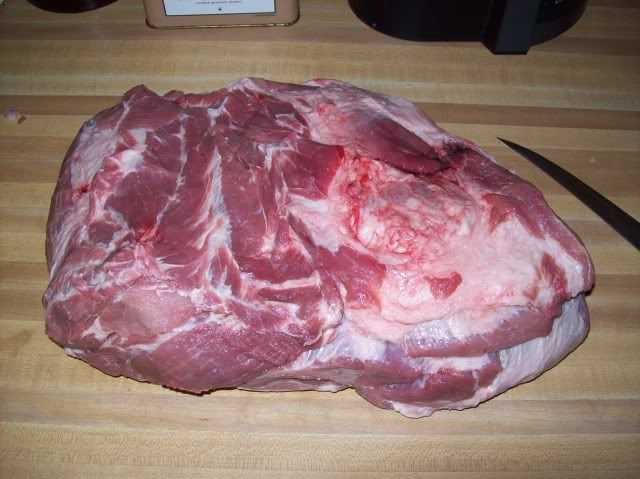 In seperating the coppa muscle from the shoulder you should have a cut that looks like this.
I trimmed two shoulders for this cure so here we are with the meats cut and ready for cure. These have both been trimmed closely to the size of the casing and seasoning measured was for each cut seperatley. I do this to assure the meats recieved the right amount of cure. The mixture must contain a minimum of 4.5% salt based on the meats weight before curing.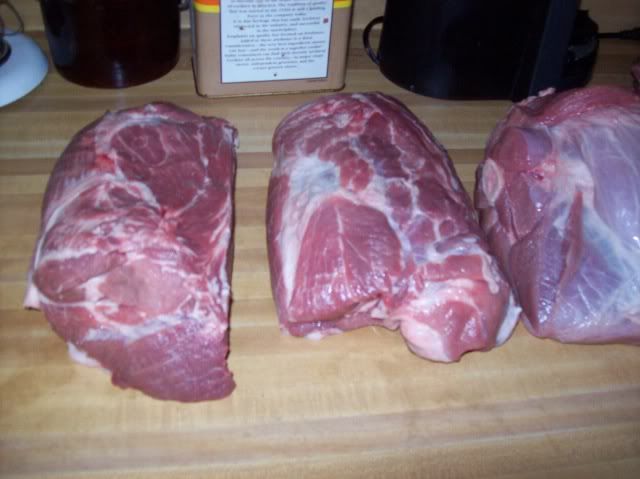 For seasoning I used the following:
5 lb. coppa muscle from the pork shoulder
5Tbs Kosher salt
5TBS Brown sugar
1-1/2 tsp black pepper
1 tsp cure #2
2 tsp Garlic powder
10 Juniper Berries
1/2 tsp mace
1tsp red pepper
2 Tbs Hungarian Paprika
Recipe taken from:
http://lpoli.50webs.com/index_files/coppa.pdf
Mix the ingrediants well in a spice mill and after all is mixed divide the amount of the spiced cure into two equal parts. I rub the first part into the meat well covering if necessary with the excess then wrap it well in saran wrap and store them in the meat locker for 10 days at 36 -38*F.
After the 10th day I remove the meat and rub it down again well with the remaining mixture again and store it back in the locker for another 10 days. Ater the meat has been cured for 20 days I remove the saran wrap and rinse off any remaining cure and air dry them on a rack for a few hours. Here they are ready for the drying process.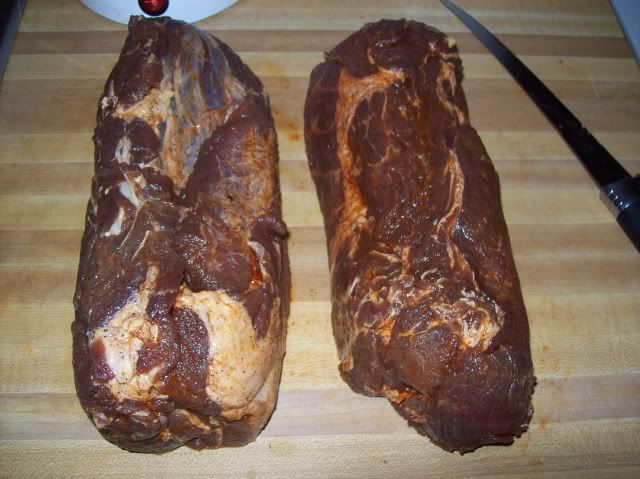 After drying they are ready to be put into casing. Prior to stuffing the meat into a casing you may again spice to taste using 8parts powdered glucose, 4 parts corn syup solids and 1 part spice mix. The spice mix contained half cayene and half paprika.
I tie my coppa up nicley prior to hanging in the fermenting locker. I fermented these at 80*F for 8 hours. After the fermenting ther were transfered into the curing chamber and held at 60*F and 72% humidity for 21 days. In the photo below the coppa is positioned to the right.
After the perscribed time here it is again.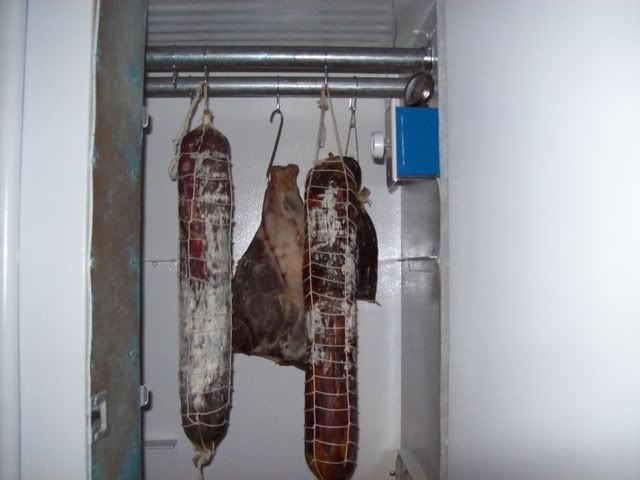 Here is one of the coppa after removal and slicing.
Next, Salami......